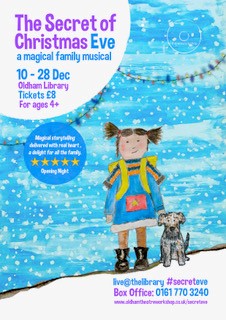 Oldham Theatre Workshop are looking for a team of Front of House volunters to support the live@thelibrary staff during their christmas production run of 'The secret of Christmas Eve'.
This new family musical will be performed at live@thelibrary in Oldham over the festive season and we will welcome lots of families and audience members from across Oldham and beyond.
We are looking for volunteers who would like to work alongside our front of house staff and support us to make their experience magical!
What's involved?
We will need you to:
Attend a volunteer training session with our Front of House staff to learn about our building and the production.
Commit to volunteer at one or more of our performances.
Show audience members to their seats, direct them to facilities in the building and provide information about the performance when asked.
Help us sell refreshments.
Support the Front of House team throughout the show and ensure all audience members are confortable and enjoy the show.
Be friendly and enthusiastic!
Why get involved?
This is a great oportunity to meet new people, support your local venue and find out more about how live@thelibrary and live performances work. We are also able to offer references to support anyone using this volunteering opportunity to further their careeer/education prospects.
We will also offer all of our Front of House volunteers one free ticket for a performance of 'The secret of Christmas Eve' during the show's run.
How to get involved?
To apply for this opportunity just follow these simple steps:
Step 1: Sign in to your account or join 'Take Part' to create a volunteer account
Step 2: Accept the challenge
Step 3: Await a response from our team who will be in touch with more information.
We are looking for a team of volunteers and will offer this oportunity on a first come first served basis.
Ideal Skills
Customer Service
Event Stewarding
Ideal Interests
Creative and Arts
Visitor Service/ Front of House