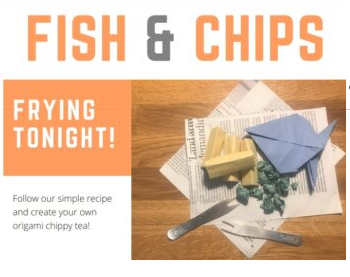 Here at Gallery Oldham we're getting involved with #GetCreativeAtHome organised by the BBC to provide some great ideas of how you can make and create at home.
We're drawing on our local history and celebrating with lots of creative ideas for you themed around the 'Chippy Tea' as Oldham is famed for bringing 'fish' and 'chips' together to create this iconic take away.
In the past this favourite take away tea would have been served up in old newspapers. If you're feeling creative and want to learn a new skill why not turn the tables and transform the newspapers in to origami fish and chips?
Just click on this instruction sheet below and follow the clear step by step guide to making your very own origami take away creation!
Get your recipe and instructions.
We'd love to see the results! Send us your pictures to @galleryoldham, #GetCreativeAtHome
What's involved?
All you will need is some old newspapers and/or magazines that you might have lying around the house. Just download the instruction sheet above and get making!
Why get involved?
It's a fun way to celebrate Oldham's local history and learn a new creative skill too!
How to get involved?
Step 1: Log in to your Take Part account
Step 2: Accept the challenge so we know you're taking part
Step 3: Grab some old newspapers and magazines, download the instruction sheet and get making! Share the results with us @galleryoldham, #GetCreativeAtHome.
Ideal Skills
Design & Illustration
Working with Children 0-5yrs
Working with Children 6 - 12yrs
Ideal Interests
Community Work
Creative and Arts
Design
Learning and Education
Curatorial/Working with Museum Collection