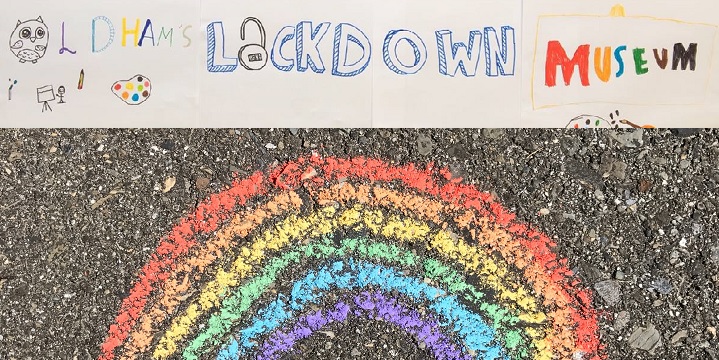 Oldham's Lockdown Museum is a new digital project to collect a snapshot of what life is like in our local area during the Covid-19 pandemic.
There is a saying: 'Change is the only visible sign of life' and what changes we've gone through.
Gallery Oldham is looking for objects, text and images that tell the story of life in lockdown so that we can share them with future generations.
Have you bought or made something unusual? What object sums up the changing world outside or the unchanging reality of staying at home?
Sometimes it is the most ordinary object that tells the most amazing story.
We'd love to share your experiences and ideas, and see pictures (photographs or drawings/paintings) of the objects that sum them up, whatever they are.
What's involved?
Each week we will set a theme for you to respond to. You are also welcome to send us Lockdown related images which don't relate to the themes. We will exhibit our favourite entries in Oldham's Lockdown Museum the following week.
This week's challenge is:
Working in Oldham has changed significantly over the last few months. This week we're asking you to tell us what has changed for you. Do you have to wear PPE for your job, which you didn't have to before? Has your workplace got new systems in place for carrying out your role? Are you now working on the end of your kitchen table at home when previously you were based in an office? Has your journey to work changed in some way?
We have already heard from people who have received generous donations from local businesses, and from local businesses who have been doing amazing things. We know that businesses here have been donating, making and supporting in so many different ways. We know that some of you have been making equipment for medical staff and procedures, while others have been supporting the well-being of younger and more vulnerable people in our area.
We'd love to see what you've been up to! Send us details and upload your images here
https://galleryoldham.org.uk/exhibitions/oldhams-lockdown-museum/
Why get involved?
- Contribute to a special exhibition
- Share your story of your life during lockdown for fututre generations
- Create! Develop new and existing creative skills
How to get involved?
Step 1: Log in to your Take part account
Step 2 : Accept the challenge so we know you are taking part!
Step 3: Click on the link to the Gallery Oldham website for further information
https://galleryoldham.org.uk/exhibitions/oldhams-lockdown-museum/
Ideal Skills
Design & Illustration
Photography
Working with Children 0-5yrs
Working with Children 6 - 12yrs
Ideal Interests
Community Work
Creative and Arts
Design
Learning and Education
Teaching and Training
Curatorial/Working with Museum Collection