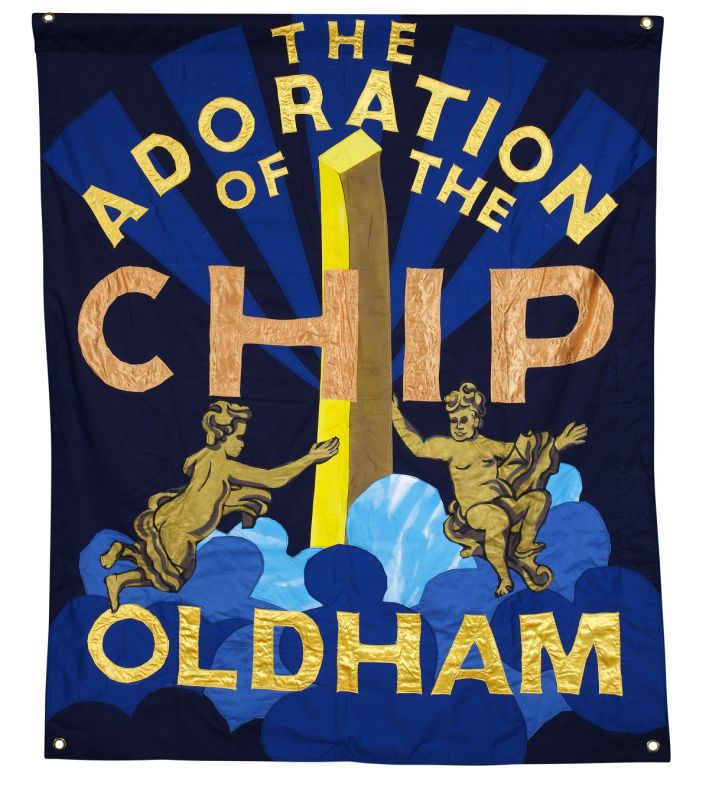 Have a go at colouring our collection here at Gallery Oldham and celebrate Oldham's claim to be the birthplace of Fish and Chips!
Get out your colouring pens and bring to life 'The Adoration of the Chip' banner created by Ed Hall that you can see pictured here. Click here to download your copy to colour.
We would really love to see what you create! Please send us your amazing creations via our social media @galleryoldham and don't forget to add the hashtag #GetCreativeAtHome.
You can also piece together our jigsaw puzzle based on this banner. How quickly can you put it together?
This challenge is part of our celebration of 'Get Creative At Home' a campaign organised by the BBC to provide some great ideas of how you can make and create at home.
What's involved?
Just have a look at our wonderful banner pictured above and create your own using our downloadable colouring sheet by clicking on the link above. Share your creations with us @galleryoldham, #GetCreativeAtHome
Why get involved?
This is a brilliant colouring challenge to help you learn more about Oldham's local history and one of the objects you can find at Gallery Oldham.
How to get involved?
Step 1: Log in to your Take Part account
Step 2: Accept the challenge so we know you are taking part.
Step 3: Download your very own 'The Adoration of the Chip' banner and get colouring! Share your work with us @gallery oldham, #GetCreativeAtHome.
Ideal Skill
Working with Children 6 - 12yrs
Ideal Interests
Creative and Arts
Design
Learning and Education
Teaching and Training
Curatorial/Working with Museum Collection