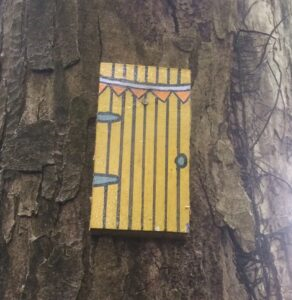 We know that you can't visit us at the moment but we have loads of fun activities that you can get involved with from home. Every week we'll be making super suggestions of how to keep your young ones busy for hours. Download our latest activities sheets and watch out for new ones every week. All our activities use materials that you'll find around the house.
This weeks Super Saturday activity brings to life your garden by making a colourful tiny fairy house. Download our fun guide here:
We hope you enjoy making your fairies new home....you might decide to build a whole fairy town…..⁠
We'd love to see your creations. Share them with us via our social media @galleryoldham
What's involved?
Download the instructions above and get making! We'd love to see the results. Please share your masterpieces with us on Facebook and Instagram @galleryoldham using the hashtag #galleryoldham.
Why get involved?
It's a great way to get creative and have fun outside. It's also kind to help out your local fairies!
How to get involved?
Step 1: Log in to your Take Part account
Step 2: Accept the challenge so we know you are taking part!
Step 3: Download the instructions above and get creating! Share your fairy houses with us via our social media @galleryoldham
Ideal Skills
Working with Children 0-5yrs
Working with Children 6 - 12yrs
Ideal Interests
Creative and Arts
Teaching and Training